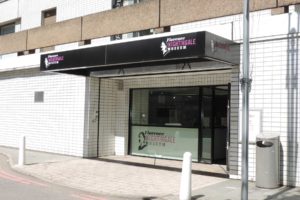 She's the founder of modern nursing and she's got a museum all to herself! Check out the Florence Nightingale Museum in London.
The Florence Nightingale Museum is located, appropriately, on the campus of a hospital. I thought the entrance looked more like a bank.
St Thomas' Hospital
2 Lambeth Palace Road
London
SE1 7EW
https://www.florence-nightingale.co.uk/
Nerd Trips ABC's – Your quick guide to basic facts to help you plan your visit.
Admissions – There was an admission fee. Check the website for the latest prices
Bathrooms – Decent, located near the gift shop
Cars (aka transportation) We took the Tube (subway) then walked to the museum. London has lots of great public transportation options.
Concessions – The museum is located in Central London, so there will be lots of food options around. The website says the museum is short walk from the London Eye and Houses of Parliament.
Coffee Cups (aka souvenirs) – We have already talked about the stuffed owls and soap, but there are lots of other Nightingale-related items, including books. I think I escaped with just a few post cards. If you want to see for yourself, many items are online.